Proprietary Solutions
Cedarock is more than a basic web designer. Over the years, we have developed custom solutions that make our clients' websites better, stronger, and more successful.
Click any logo below to learn more: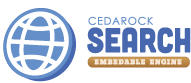 A Thousand Words
Pictures are worth a thousand words, so take a look at the images in our portfolio!
"I must admit I was skeptical when Cedarock introduced us to Search Engine Optimization. Now here we are a year later and I wish I would have started sooner. Leads and RFQ's are up so much I can barely keep up with the quoting. I do not understand everything about SEO, I just know it works, and would definitely recommend it for anyone who wants their website to start working for them."
Chuck Thudium, Chief Executive Officer
AT Precision
Northbrook, Illinois