Proprietary Solutions
Cedarock is more than a basic web designer. Over the years, we have developed custom solutions that make our clients' websites better, stronger, and more successful.
Click any logo below to learn more: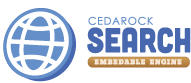 A Thousand Words
Pictures are worth a thousand words, so take a look at the images in our portfolio!
"Jim, I have nothing but praise for Cedarock. Very professional work at a fair price. After meeting and working with you I feel I have gained a trusted friend in the business world."
John Sullivan, Owner
Infratech Thermal Imaging
McHenry, Illinois