Proprietary Solutions
Cedarock is more than a basic web designer. Over the years, we have developed custom solutions that make our clients' websites better, stronger, and more successful.
Click any logo below to learn more: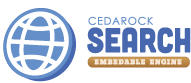 A Thousand Words
Pictures are worth a thousand words, so take a look at the images in our portfolio!
"Wanted to tell you what a dramatic change Cedarock has made for my business. I was nervous about spending a good chuck of money to get my website done and was considering doing it myself or having a friend do it for me instead. Well, I have to tell you that I do not regret choosing Cedarock. 95% of my clients view my website and the response is overwhelming. Cedarock is truly the definition of 'you get what you pay for'."
Dave Woll, Owner
Memory Makers Entertainment
Grayslake, Illinois