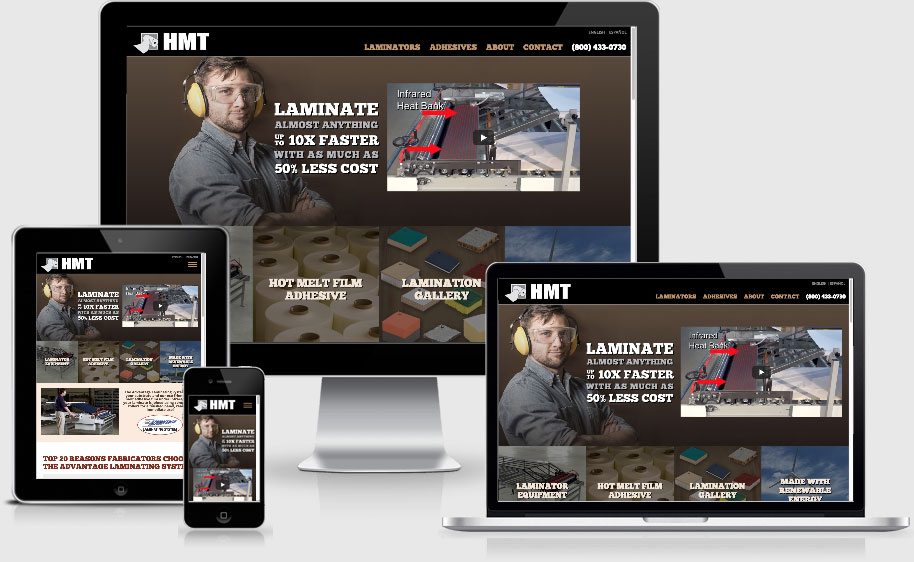 Client
HMT Manufacturing, Inc.
Objective
Create new marketing identity, introduce new product, and develop a responsive website.
Audience
Fabricators needing to bond laminates to substrates: woodworking, insulation, foam and styrofoam, cabinet makers, packaging, signs, panel fabricators, displays, doors, office partitions, furniture, bulletin boards, tractor trailers, pool tables, refrigeration, floor padding, hobby & crafts, elevator interiors, slatwall, gaming, lightweight structures, markerboard, sponges, acoustical products, HVAC, aircraft interiors, and recreational vehicles.
Services Provided
Cedarock conducted in-depth interviews with key members of HMT's team to develop a deep understanding of their products, services, customers, and competitive advantages. We also conducted extensive keyword research to determine valuable search phrases for search engine optimization. We then developed a site architecture model, created all text content, managed multiple photo shoots, wrote scripts for video, provided graphic design, branding, user experience design (UX), user interface design (UI), front-end coding (HTML, CSS, jQuery, Javascript), back-end programming (PHP, mySQL), website hosting, DNS management, SSL management, domain registration & renewal, Google Analytics, online profile management, search engine optimization, and landing page/lead magnet program management. Additionally, we provided exhibit graphics and print collateral consistent with the new website.