How Presentation Impacts Consumer Demand
Cornell University measured the impact communication has on perceived value. One group was shown a plain menu describing a meal: fish, scalloped potatoes, green beans, chocolate cake. The meal was served on paper plates with plastic utensils under fluorescent lighting. After dinner, participants were asked to rate the food on a 10-point scale where 1 was poor and 10 was excellent. The meal earned an average score of 3.4 points.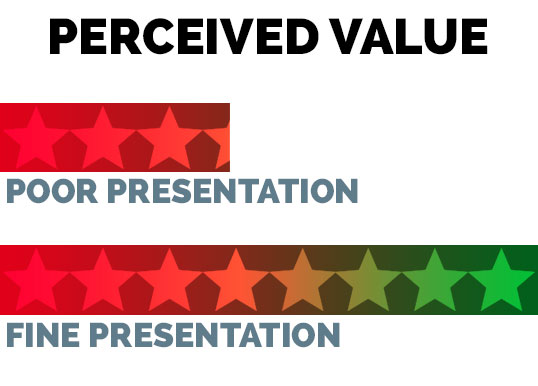 Another group was given the exact same food with a different presentation. Their table was set with linens, a floral centerpiece, and candles. The meal was served on china with glassware and silverware. The menu offered Panko‑encrusted Mediterranean sea bass, French‑style haricots verts, etc. After the meal, participants gave the meal an average of 8.0 on the same 10-point scale.
Now think about your website. Your brochures. Your direct mail campaigns. Your print ads. Are you presenting fish on paper plates, or Panko-encrusted Mediterranean sea bass on fine china? You don't have to be a luxury brand, but you should present your products and services in the most flattering light. Perception is reality, making your identity and user experience critical. Your product or service may be incredibly valuable, but if your marketing materials are not equally as impressive, or fail to communicate clearly, customers will go elsewhere.
That's what Cedarock Communications has improved for organizations in more than 100 industries since 1996. We learn about your organization, strengths, customers, competitors, and more. We bring ideas that enhance your image, improve communication, and make life easier for your customers. May we help you, too?